Per consultare la guida in linea di Python dobbiamo digitare il comando help() per ricevere informazioni sull'uso dell'interprete python. Dopo aver impartito il comando si riceve un messaggio di benvenuto dalla funzione di Guida in linea che ci invita nel caso fossimo dei principianti a consultare il tutorial disponibile su Internet al seguente url:
http://docs.python.org/tutorial/:
>>> help()
Welcome to Python 3.1!  This is the online help utility.

If this is your first time using Python, you should definitely check out the tutorial on the Internet at http://docs.python.org/tutorial/.

Enter the name of any module, keyword, or topic to get help on writing Python programs and using Python modules.  To quit this help utility and return to the interpreter, just type "quit".

To get a list of available modules, keywords, or topics, type "modules", "keywords", or "topics".  Each module also comes with a one-line summary of what it does; to list the modules whose summaries contain a given word such as "spam", type "modules spam".

help>
 Nella guida in linea, come già detto attivabile con il comando help(), basterà inserire il nome di qualsiasi modulo, parola chiave o un argomento per ottenere aiuto nella redazione di programmi Python. Per uscire poi dalla guida in linea per fare ritorno all'interprete, sarà sufficiente digitare "quit". Per ottenere invece un elenco dei moduli disponibili, delle parole chiave previste o degli argomenti utilizzabili, sarà necessario digitare "modules","keywords", oppure "topics".
Ogni modulo poi ha un sommario contenuto nella guida in linea in cui vengono elencate tutte le sue caratteristiche, mentre per elencare i moduli la cui sintesi contiene una parola data dovremo aggiungerla alla parola modules. Ad esempio per avere informazioni sul modulo array inseriremo tale nome nella shell della guida in linea per ottenere le informazioni riportate nella figura.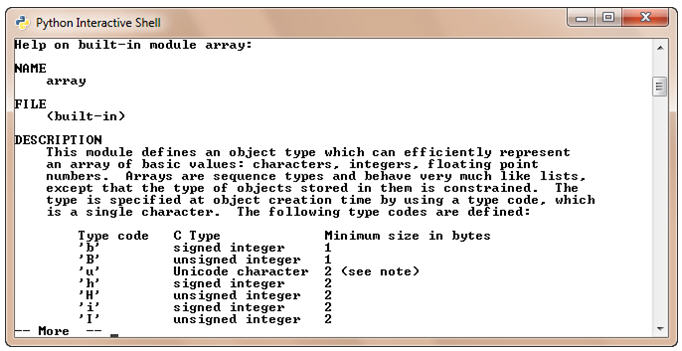 É allora consigliabile consultare la guida in linea dell'interprete Python ogni qualvolta ci si trova a dover utilizzare una risorsa Python che non si conosce in modo adeguato; abbiamo visto che attraverso l'help della Python Interactive Shell sarà semplice ed immediato ottenerne una sufficiente documentazione.
LINK DI APPROFONDIMENTO PER L'ARGOMENTO: